We fell in love with Marcia and Daniel's two-day wedding celebration in Angola because of the contrasting elements they chose to highlight on each day. On the first day, they had a small, intimate civil union on the beach. Relaxed but still elegant, they spent the day with those nearest and dearest. The next day they'd coordinated a glamorous, formal church wedding with reception for 500 guests. It was a non-stop salute to their never-ending love for one another – who doesn't want marry the love of their life twice?!
Their Story
Love happens in the most surprising ways, and that's what always crosses my mind when I think of how we met. A couple of friends and I attended a wedding in London. I was living in Leeds, completing the first year of a law degree. As many people know, first year students never have any money but somehow I managed to arrange a ticket and looking back,I believe that it was "meant to be" because that's where I met Daniel.
After a stop-start introductions and misinterpreted impressions over the course of a few days, Daniel and I finally found common ground. When he heard that I used to live in New York, the conversation flowed and we instantly became friends. We started speaking on the phone quite regularly and after a few weeks, he came to visit me in Leeds as he was based in London. We began to date officially and it's still the best thing that's ever happened – we became each other's best of friends.
The Proposal
I had two wedding proposals. I think Daniel and I are always celebrating our most important moments twice. The first time happened during one of my lectures at the Middlesex University. I was doing my masters degree at the time, and I noticed that my tutor had put up a photo of Daniel and myself, from when we'd first met, on the screen. Immediately, I froze and thought, "How did you get hold of my pictures?!" Right after the first photo, a bible scripture appeared and that's when I realised that something was going on. Following a beautiful collage of images, bible verses and John Legend's All of Me, Daniel, a group of my friends and my younger brother walked in, with a huge bouquet of all of my favourite roses and loads of balloons.
Suddenly I saw a huge crowd of students gathering together to watch the proposal and waiting for the yes. They carried me to the middle of the lecture hall, where Daniel was standing, and we watched the rest of the slide show together, before he got on one knee. Afterward, my mates and my brother all turned around and printed on the back of their shirts was Marcia, will you marry me? Of course I said yes! The second proposal was more traditional and took place in Angola with our families.
The Style
We had two ceremonies to celebrate our union. I was living in London while planning the wedding in Angola and, although it was stressful, it all turned out fine in the end. Although Daniel and I both had families in Angola, we hadn't grown up there so neither of us were familiar with the country. As an interior designer, I wanted the wedding to be beautiful, full of life and I wanted the details to be spot on.
I wanted a simple and private ceremony for the civil wedding, because I knew that Daniel and I would not be able to do that for the religious ceremony, which happened to have 500 guests. The civil ceremony was a care-free, all-white wedding ceremony on the beach, whilst the religious ceremony was an elegant black and white ceremony.
The Elements
I had an amazing wedding planner from Brazil, Rossana Lazaratto. She and her team made my wedding dream come to life. The décor was minimal, because the chosen location was already beautiful and we didn't want to ruin the natural look and feel. The decor included only white orchids and a few candles. Rossana and the florist, Marcia Parasmo, produced beautiful white orchid centrepieces.
Daniel and I are very independent – he is more simple while I am more extravagant and we wanted what best represented us as a couple. So the beach ceremony was simple, pure and peaceful while the church ceremony was an elegant, black and white affair. For the reception we wanted to create a very romantic feeling, so we combined ten thousand flowers with tons of candles to cast a romantic beauty to the table setting.
I loved that someone sang 'ave maria' as Marcia walked down the aisle. It was really beautiful. I loved the energy on the dance floor later the evening. I was inspired by being in a different environment to where I usually shoot. – Photographer, Catherine Mac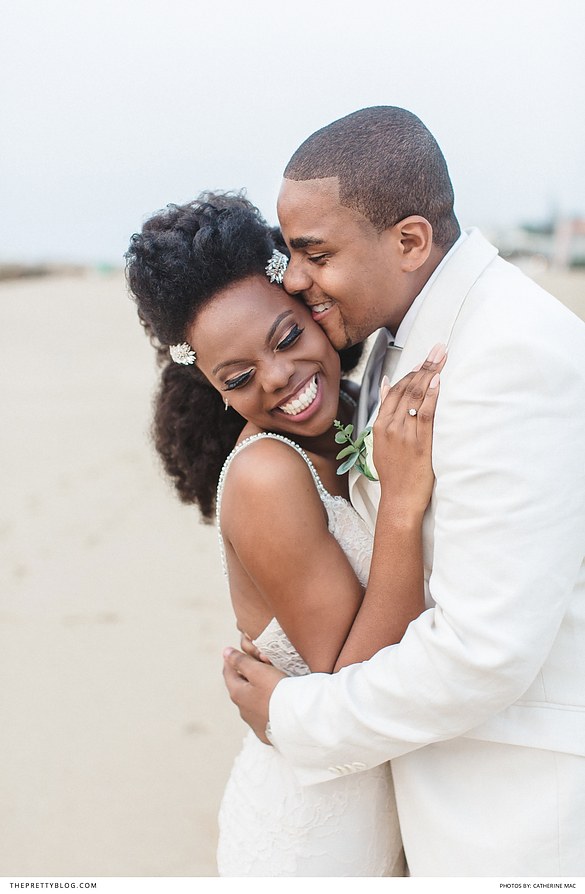 The most memorable moments
Our first dance is one that stands out – John Legend's All of Me was just the perfect song to capture how we feel about each other. Another precious moment, and a surprised for the guests, was when our "ring bearer" (my lovely Golden Retriever, Lady) came bouncing down the aisle. We had created a beautiful rose collar with a little bell hanging from it and hid the wedding bands inside the bell.
Did anything unexpected happen on your wedding day?
Yes, I danced the tango with my granddad! He is 98 years old, so it was a surprise when they asked for the bride to stand on the dance floor and tango music started playing. My granddad suddenly appeared with his walking stick – it was a beautiful and unexpected moment.
The Dress
The dress for my civil wedding was a Galia Lahav bridal dress. A full-lace, mermaid dress made in vintage blush chiffon fabric. It was adorned with embroidered appliqués and trim. My church dress was custom-made by an amazing wedding gown designer called Paulo Dolce, from Brazil. It was an elegant, mermaid-shaped gown with an off-the-shoulder Ellie Saab pearl-beaded, embroidered lace. The dress was very detailed and completely open at the back.
Tips for planning a wedding
Number one would be to envision the kind of wedding that you want – do you want a beach or church wedding? You need to get the big picture, because once you know that, the little details like the colours and flowers will fall into place.
You need to know you budget really well! That's a second major factor in the entire wedding processes. If you end up going way over the budget it can cause a real strain on the couple's relationship.
Often during the wedding process we want to include loads of things but it doesn't mean we need them. My wedding planner helped me a lot in that department.
Another important tip, is not to overthink things – once you make a decision, stick to it. Be true to yourself and if you don't like something, you can politely decline. Also, don't multitask!
Tips for the budget
I had to be realistic about the essentials and, although it was difficult at the beginning, it had to be done. I was constantly comparing prices and by deciding to get married in the off season, things tended to be cheaper. I also saved quite a bit by waiting to buy my civil wedding gown at the sample sales. Purchasing all the stationary from the same vendor helped to decrease cost by making use of a packaged deal.
The Journey
The most important part of any wedding is the process – in my opinion, it was the whole journey that made our day so enjoyable. The memories on the day will be worth so much more if you spent the time leading up to the big day, planning and putting it all together with your spouse. Also, make sure to choose your bridesmaids carefully. Having the right ladies by your side will make sure you have enough support when it's needed.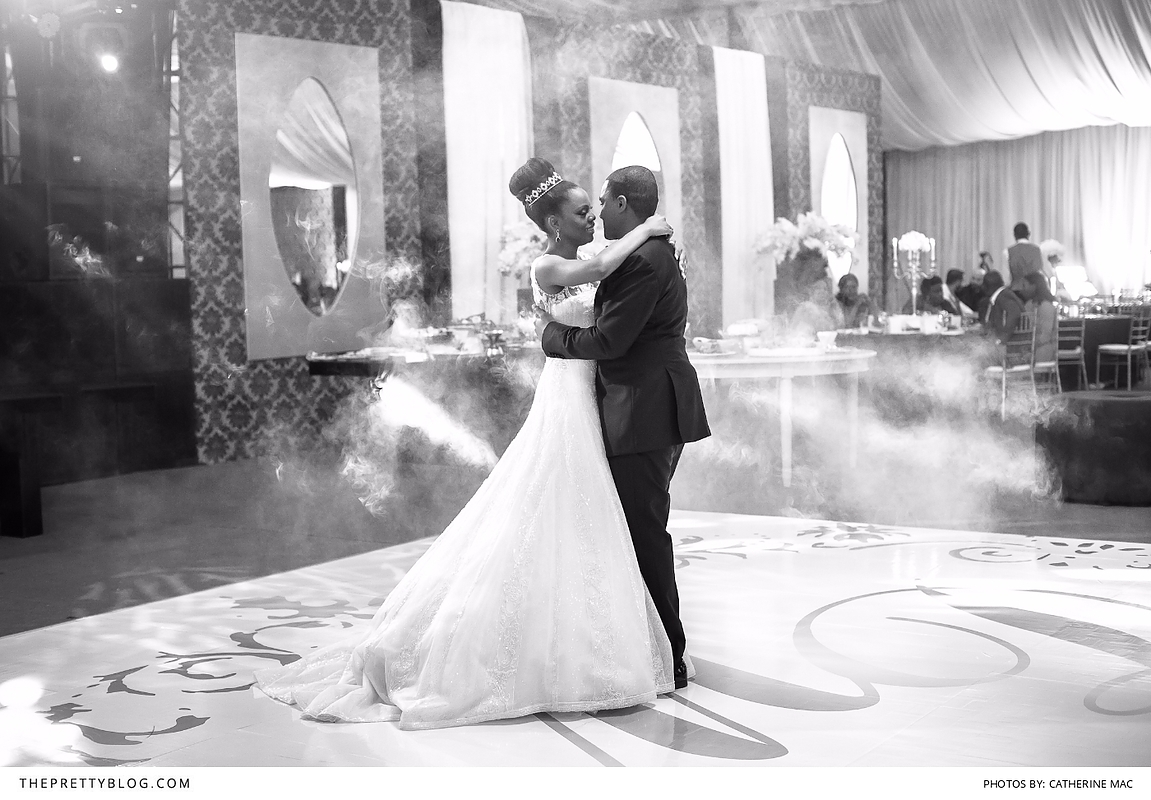 Original Article:
Beautifully Simple, Their Two Day Celebration Was like None Other